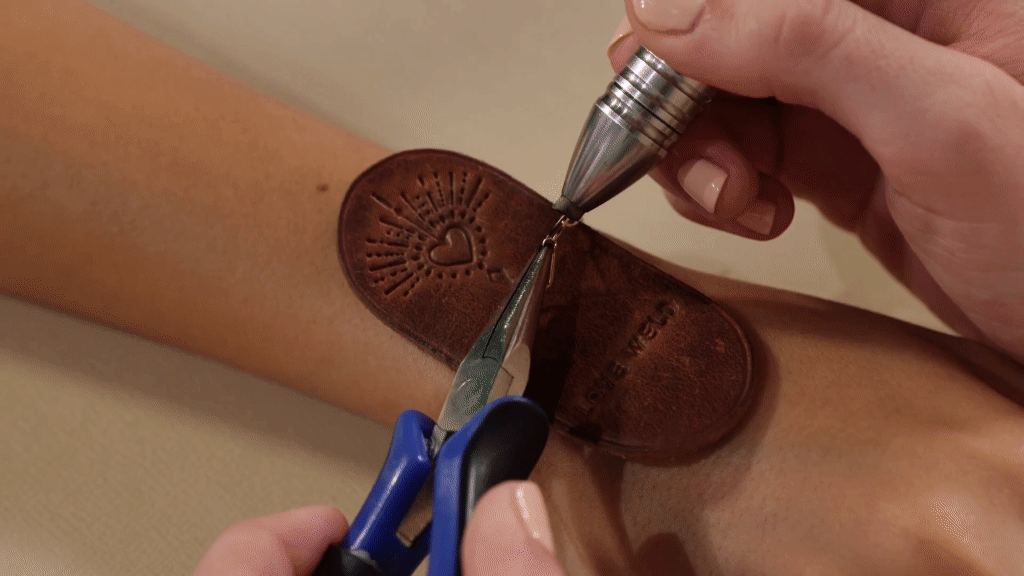 Find answers to our most frequently asked questions below.  Still need help? Please contact us and we'll get in touch within 24 hours.
Love Weld™ Forever Bound Jewelry
Forever bound jewelry is custom-tailored permanent jewelry. 
A Love Weld™ piece is a 14k solid gold fine jewelry item that's personalized during your visit to our welding studio. Once the piece is created, it's adorned with our special Love Weld™ technology for a clasp-free, carefree, pain-free wear.
Permanent jewelry is a necklace, anklet or a bracelet that doesn't have a typical clasp. Instead, the ends are welded or "zapped" together.
The main reason is we weld truly #foreverbound jewelry. 14K Solid gold is heirloom quality, sustainable, durable, will not tarnish and hypoallergenic in nature.
Our pieces are 14k solid gold and designed to last forever or until you want to take them off or add a clasp.
There are many reasons people love our forever bound jewelry and they are unique to the individual.  Here are a few reasons we've heard:
The pieces are custom tailored and allow wearers to tell a bit of their story.
It's a great way to make a style statement.
To commemorate special occasions.
Show lasting bonds with loved ones.
Traditional jewelry styles are uncomfortable, and they prefer a custom fit.
Yes. It only takes a few painless moments to get a permanent necklace or bracelet, and the welding tools don't touch your skin. 
You can simply give a gentle snip at the welded ring with scissors.  We'll be here to re-weld for a $20 service fee and rekindle that eternal sparkle.
Prefer a clasp? We can add one for a small fee. 
Additionally, we do offer special services for permanent jewelry styles under our 60 day warranty
One of the many reasons we only use 14K gold for our pieces is that it's durable and resistant to elements.
Yes. Our jewelry is made from 14K solid gold, which is not magnetic.  Nothing about your piece is going to set off a metal detector.
Our pieces are not a problem for most medical procedures.  Please consult with your doctor and follow their guidance.  If you do need to remove it, we re-weld pieces removed for medical reasons for free in the studio, or we can always add a clasp for a small fee.
Love Weld™ Forever Bound Appointments
All minors under the age of 18, must be accompanied by or have written consent from a parent or guardian.
We do not weld children under the age of 10 but offer adjustable clasped versions that grow with them at no extra charge.
Appointments are encouraged, although we do take walk-ins. Please check availability by going to our book an appointment page to learn about the studio availability in your area.
A 30-minute appointment accommodates up to 3 guests getting one welded piece each or up to 3 total pieces welded.
A 60-minute appointment accommodates 4 to 6 guests or up to 6 total pieces welded during the appointment.
Our most popular forever bound 14k bracelets start at $100. There is no additional cost for the weld. Check out our signature styles here.
Yes! Our custom charms are often added during Love Weld sessions.
Our welding technology ensures a seamless, pain-free experience, letting love do all the talking.
From anklets that dance on your feet to rings that grace your hands, necklaces that embrace your heart, and bracelets that adorn your wrists, we're here to forge love into every piece. 
You can get Love Welded at one of our many growing locations or pop ups in your area! Check out our list of Locations here to book your appointment!
Not one in your current area? We are growing so be sure to keep up with where we're off to next by following us on Instagram @love.weld or sign-up for SMS or our email list to always be the first to know.
SHOP ONLINE! Our Love Weld™ signature styles are also available in our online shop at various lengths and with a custom LW clasp. Buy it now online and you can always choose to have it welded later!
Love Weld would love to host or join you at your next event. Visit our events page here for more information.